Luiza Hoxhaj
Director CRLDS (Center for Regional and Local Development Studies)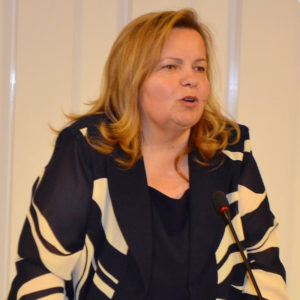 Luiza Hoxhaj completed his studies in economy at the University of Tirana and graduated with Master Degree with merit in Regulation of Local and Regional Development from the University of Padua and the "Ca Foscari" of Venice (Intercollegiate); She has also completed Postgraduate Studies in Design of Community Programs and International Cooperation, Economic and International Development as well as doctoral studies in Development Economy at the University of Rome "Tor Vergata".
She has completed various courses as: "Risk Management of Insurance Companies", St. John's University of New York, USA; "Leadership Program in Financial Services", Toronto Center & York University, Canada; "Ecological Economy", Oxford University, UK; "Senior Manager of Social Issues" 2000, ILO Center, Turin, Italy ; "Social Urban economy", Wageningen University , NL . She has participated in several trainings, summits, forums, International Conferences, organized and funded by the Program for the Development of the Trade Legislation and Commerce Department of the USA and NAIC, From European Commission ect.
She have a long experience as specialist and manager at various levels both local and national , state and private structures, in economic, legislative and supervisory structures. She have experience in non-governmental organizations and civil society as on the management of projects funded by USAID, EU, SDC, ADA, GIZ, UNOPS, UNDP etc. as well as from the American Embassy, from the Kingdom of the Netherlands embassy and Swedish embassy. : Since 2012 is Executive Director of CRLDS)). Since 2016 she is the organizer and Chair of the Board of the Forum for Regional and Local Economic Development in the Western Balkans – FoRLED.
Luiza is the author and co-author of 10 studies in the field of regional development, sustainable development and multi-level governance as well as the author of about 70 articles.