Pier Antonio Salvador
President, API – Associazione Piscicoltori Italiani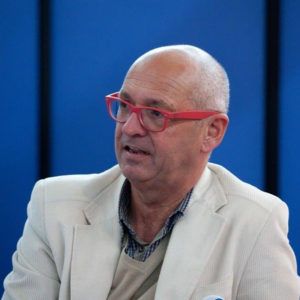 Pier Antonio Salvador comes from a family of agricultural entrepreneurs, with traditions in the field of fish farming in Friuli Venezia Giulia region.
As a second-generation aquaculture farmer, He is the owner of Caio, a trout farming. He held a PhD in Marketing and Finance from the International University of Miami USA.
He has always been active in agricultural associations and in the 70s and 80s He was the Vice President of the National Young Farmers Association, ANGA – CONFAGRICOLTURA of Friuli Venezia Giulia.
He has been Member of the Board of Directors of the Italian Fish Farmers Association from the second half of the 1980s, and he held the position of Vice President from 1994 to 2000, by working within the Board of Directors, as a member of the "Health in Aquaculture" commission and the "Transformation and Marketing".
Since June 2000 He has been President of API for seven consecutive terms and has been reconfirmed in 2018.
Furthermore, He is a member of the CONFAGRICOLTURA Steering Committee.
Vice President of the Copa-Cogeca "Fish" Working Party, an association that represents the interests of the agricultural organisations (Copa) and agricultural cooperatives (Cogeca) of the EU Member States.
He represents the Italian Fish Farmers Association within the European Federation of Aquaculture Producers (FEAP) where for 15 years He held the role of Chairman of the Fish Health commission, and currently, He is a member of the Executive Committee (ExCom) of the AAC (Aquaculture Advisory Council – an advisory body of the EU Commission) appointed as its representative by Copa and, as such, He participates as an expert member in the three Working Groups of the same AAC.
At the Italian Institutions, He held the roles of:
– Member of the Advisory Committee of Fisheries and Aquaculture, a joint body for consultation with the representatives of the professional categories of the sector, established under the DG MARE of the European Commission since January 2003.
– He participated with the role of API President in the "Green Table" set up at the Presidency of the Council of Ministers and in the "Blue Table" set up at the Ministry for Agricultural and Forestry Policies, pursuant to Art. 2 of the Legislative Decree n. 154 of 05/26/04;
– He has been a member of the Central Advisory Commission for fishing and aquaculture, pursuant to Law no. 154, in the three-year period 2005-2008;
– From 2009 to 2010 He was Advisor to the Minister for Agricultural, Food and Forestry Policies on aquaculture;
He is currently an effective member of the Permanent Consultation Table of Fisheries and Aquaculture established by the MiPAAF and of other advisory bodies including the Regional Fish Committee in Friuli Venezia Giulia, and representing the MiPAAF He is the representative for aquaculture within the Adriatic Advisory Committee for the Interreg ARGOS Project.