Vasilis Zisimopoulos
CEO-Founder Costa Nostrum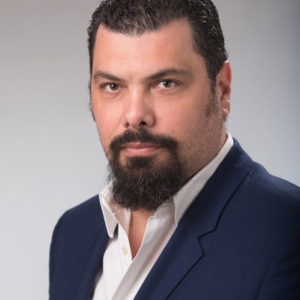 Vasileios Zisimopoulos was born in Heraklion of Crete in 1976, where he is living and working as Mechanical Engineering, owner of the Technical Office "AELIA Sustainable Engineering" and CEO –Founder of the triple award winning startup company Costa Nostrum Ltd.
He has two MSc degrees, "MSc Energy and Sustainable Development" and "MSc Environmental Conservation and Management" and next summer is finishing his third MSc, in "Sustainable Tourism Management".
From January 2005 to January 2013, he was working as a Project Manager of Hellenic Recycling Recovery Corporation, HERRCO, in charge of the Recycling Program of Packing Materials in the Region of Crete and of the "Recycling
Sorting Plant" [RSP], in Heraklion, Crete.
He was one of the main co-organizers and a member of the Scientific Committee of the 8th International Symposium – Conference on Sandy Beaches held in Hersonissos in May 2018.
Since 2007, he has been a member of the Standing Committee on the Environment of the Technical Chamber of Greece – Department of Eastern Crete and he is also member of Hellenic Solid Waste Management Association (HSWMA) and member of International Solid Waste Association (ISWA) from which he awarded at December 2012 the certification of International Waste Manager – Advanced Status.
Finally, he has participated, as a speaker, in several national and international scientific conferences focusing on Environment, Recycling, Sustainability and Sustainable Management of Beaches.